2018 UMFF " Work With China" Panel
TOPICS:
China has a huge boost to the production and success of domestic films. China's film revenues have grown by 25% a year for the past 10 years. Chinese Film Projects are looking for Western filmmakers participate in their movies. A window of opportunity has opened for the Western directors, screenwriters, Scrip doctors, cinema photographers, musical composters, Animators, actors, etc. Come to meet the delegations of Chinese investors, producers, directors, and find out the pitfalls, common misunderstandings, and industry myths for working with the Chinese films. The panelists will attempt to address these issues during the discussion.
Pre-sign up ( click here to download Sign up form) is strongly recommended. For actors, please bring your headshots and CV with you for possibility of onsite audition.

Time: 2:00-3:30PM; April 7, 2018
Location: Fireside room @Fred Hesse Community Park Center,(29301 Hawthorne Blvd; Rancho Palos Verdes, Ca 90275; Admission by Panel Pass.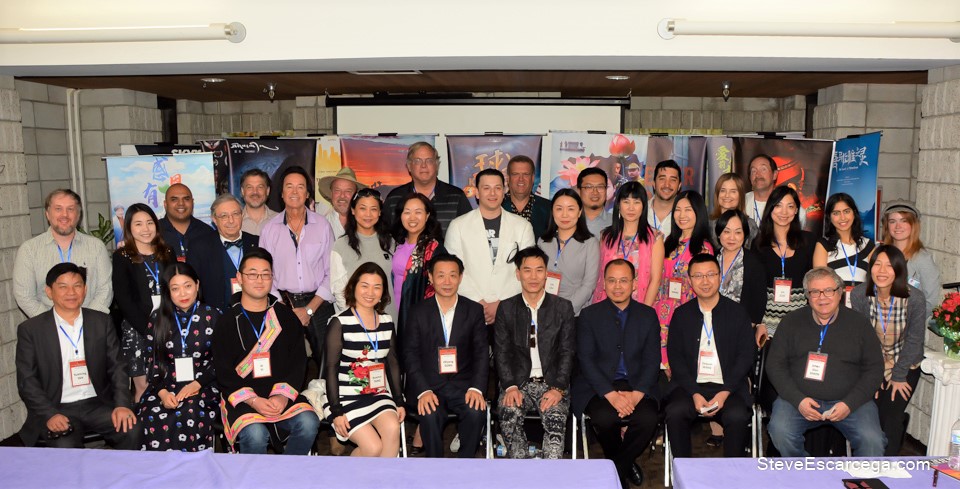 The Panel Speakers are:
JACOB N. STUART, Screenwriter
IMDb: www.imdb.com/name/nm3714544. Jacob is an award-winning and represented screenwriter, with OVER 15 scripts optioned and/or produced to screen, airing in OVER 7 different countries. Going into 2016, Jacob currently has 1 feature-length screenplay sold, 2 feature-length screenplays optioned, and 2 short scripts in post-production. He is the Founder of the popular Screenwriting Staffing [www.screenwritingstaffing.com], an online screenwriting community that has facilitated OVER 125 success stories in 3 years (for both screenwriters and producers). Jacob was previously the Screenplay Contest Director for the Cincinnati Film Festival. He has spoke on screenwriting for FilmDayton, WriteStuff Writers Conference, 48 Hour Film Festival, and MANY more. He graduated in 2010 from The Los Angeles Film School, with a concentration in screenwriting. He also is a contributor for Creative Screenwriting Magazine. Jacob's personal web-site: www.JacobNStuart.com. You can follow Jacob on Twitter @JacobNStuart
Jing Zhang; Producer, Project Planner
Mr. Jing Zhang is senior media person, planner, poet, photographer, producer. He has variety of literary, photography and film and television works have won national awards.
He has published poetry collection "Wandering in the Century", photo calendar "Northern Shaanxi", "Great River", "Impression • Northern Shaanxi".
He had planned to shoot documentary films "The Press Master Zhang Jiyu", "The Records of Liang Jiahe", "Du Binyu". He is the producer and project planner for feature film " Fine Dried Noodles" that is in the 2018 Universe Multicultural Film Festival official selection
Jiang Song, Director


Mr. Jiang Song is a young film director, Chief of Operation in Ba Nan Cultural ( microfilm) industrial park . He is the director of " Phoenix Sings In Mudong"which made in to the 2018 Universe Multicultural Film festival official selection list. He get known by masterpiece "Cattle Bells from the Mountain"

Dongliang Zhou, Actor


Mr.Zhou is the first rank actor in China,with the titles of Youth perform artist; Intangible Cultural Heritage Xi opera representative successor ; member of China Dramatists Association. He is the winner of China Drama Plum Blossom Award; Wen Hua Performance Award,known by "The Pearl Pagoda"; "Rain in July"; "Merry Champion","Jade Dragonfly";"Exquisite Gril"; "Search for children", "nunnery admits mother"
Zuyun Wu, Director


Mr.Zuyun Wu is a famous director, have directed multiple independent film and television drama, won many awards at home and abroad. His masterpiece TV series "North Wind" "People in the High Wall", "Drifting Girl" "Iron Plateau". His masterpiece movie: "Their Boats" "Bloom", "I Love Beijing Tiananmen" "Bus March". He is bring his new film " The Last Drumbeat" to the 2018 Universe Multicultural Film Festival.

Jingyun Yan, Actress


Ms.Jingyun Yan is a rising young actress , She is the leading actress for the film " Marriage" that is the official selection of 2018 Universe Multicultural Film Festival. Her Masterpiece Movie "Empress Yang","Nine Demon Towers," "Kusano Wars," "Taxi Detective," "Eateater Butterfly," TV series: "Beauty Quarter", "The Other Side of Heaven"

Suolang Zuoga, Actress


Suolang Zuoga is a well know Tibet actress, her stage name called " Suo Er Zheng", as leading actress she has been seen from the film " Prince Himalaya"; "Advance even"; "Tibet sky"; "Tibet secret"; "Sky edge Namtso