2016 UMFF Award Ceremony
Live Boardcasting by Zuzufy ( USA) and LeTV ( China); Live Performaces, Award Presentation, Food & drinks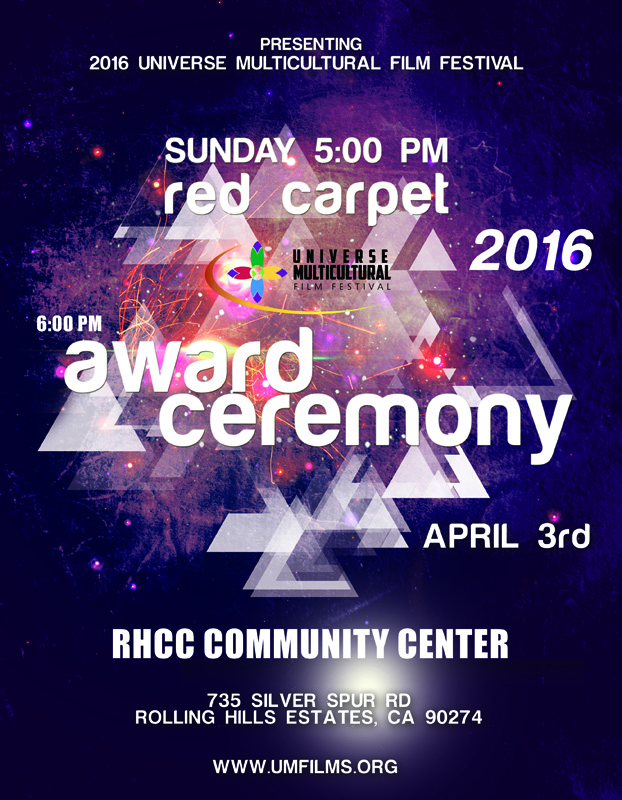 Time: 6:30-9:30PM; April 3, 2016


Location: 735 Silver Spur Rd, Rolling Hills Estate, CA 90275; Admission by Award Ceremony Pass
The Actors:
Tracy Reiner, Host
With four decades in Hollywood, media maker Tracy Reiner has honed her talents to include producing, writing, directing, and acting. She has appeared in over 30 films and has worked in every category of film production. As cast crew and executive in pre and post production. Tracy's films include: Valentine's Day, State's Evidence ,The Princess Diaries 2: Riding in Cars with Boys, The Princess Diaries, Apollo 13, A League of Their Own , Pretty Woman, When Harry Met Sally, Beaches, Die Hard, Big Jump in' Jack Flash and The Flamingo Kid
Tracy is currently the CEO of Manifesto Films which is expanding the technology of filmmaking optics and consulting on media projects. She has been the Chairwoman of the Universe Multicultural Film Festival since 2013.

Damian De Langeron – Host, MC, Red Carpet Host
Damian traveled and worked throughout Europe attaining a solid reputation among charity and social life for his stunning philanthropic activity and celebrity liaison work. Since arriving in the US he has begun to generate the same enthusiastic response. Damian had hosted, MC, designed and programmed over 300 VIP events /over 250.000 people/ only in US, made 40 films. Owner of private Club "The De Langeron Club", media platform GoldenHeartAwards.org; De Langeron gathering the best of life, of people, and all for a responsibility to bring fortune to those less fortunate. His works as Ambassador for Shriners Hospital and Midnight Mission, Nelson Mandela, Battle Brotherhood and many other organizations.

Melissa Papel, Actress, MC
Melissa Papel was born in Paris, France in 1985. At a very young age, she started traveling on her own and working all over the world as a multilingual actress and TV show host, interviewing athletes in several languages, and working as an actress in a variety of countries and dialects. Melissa Papel was in several feature films as the lead female character, including 'The Precinct', which represented Azerbaijan in the Foreign Film Category of the Academy Awards in 2011. After having acquired a really good career abroad in film and television, Melissa suddenly decided to quit everything and move to LA in order to pursue the Hollywood dream. Also focused on directing, Melissa has won a few prizes, including an Award at the Monaco Film Festival for her first short titled 'Delete Me'. She is currently based in Los Angeles and working on several projects

Chaidamu National Orchestra ( Haixi Mongolian-Tibetan district, China)


Chadamu National Rochestra was founded in Delingha City, Haixi Mongolian-Tibetan Autonomous District in Qinghai Province. The four singers (Liteer; Jinba; Mengrong; Sarenhua) are all from families of Mongolian herdsmen. They learned folk music from parents and folk artists since childhood, enrolled into professional music schools in their teens to study. Each singer retains the traditional singing style, they are skillful at bowed and plucked instruments as well as khoomei (a singing skill). They participated in large-scale art events in China and abroad, and won many awards. They perfectly integrate the world music and folk music. Their enthusiastic and natural singing style, plus proficient singing skills, will lead you to a music paradise.

Josh Moreland, Pop Singer, Music Composer


Josh Moreland is an internationally recognized entertainer. Touring with well known celebrities like Far East Movement, Mario, Jason Derulo, Rick Ross and many more. Writing with 9-time Grammy Award winner John Legend. As a World Pop/R&B artist, writer, and entertainer, he is known for his unforgettable explosive performances. Josh's sound crosses the likes of Michael Jackson, Sting and Bono. Josh's message is that he wants people to fall in-love with themselves again, to remember who they are...remind them of their power and worth.

Joy Weiser; Singer, Dancer, actor




Joy Weiser is a singer, dancer, and actor. Born in Los Angeles, Joy has performed in a variety of musical theater productions including: Don Pasquale; The Magic Flute; Into the Woods; Die Fledermaus; Titanic; Sweet Smell of Success: The Rock Opera of Phantom of the Opera, and The Gondoliers.




In April 2015, Joy released her debut album, Below the Surface, focusing on songs from her heart--of passion, love, heartbreak, freedom and unity.




In 2013, Joy auditioned for Season 8 of America's Got Talent. She advanced to the top 100 out of 75,000, and performed in Las Vegas

New York Pretty Sunset Beijing Chinese Art Troupe (New York, NY)


The Pretty Sunset Beijing Chinese Art Troupe founded by Lily Li. Ever since April 2015, it extended members from age 29 to 80. The team successfully presented, "Our home town is by the North East Song Hua River". The play was rewarded "Great Performance" by various New York Chinese American societies. In celebrating 70 years worldly United Nation grand multi-cultural and arts repertory shows, they are very proud of the accomplishment. This group won the best Qipao Artist Group title at 2015 San Diego International Kids Film Festival.
Vanessa T - international Celebrity liaison, Red Carpet Host.
Vanessa became a private international consultant for many celebrity and political and VIP figures.
Advisory and participating for philanthropy and animals projects have provided a solid reputation, and distinguished contacts.

Pete Allman; Actor, Host, Producer




Peter Allman started out his career as vocalist in Houston, Texas, with Bubba Thomas and the Lightmen, the New York jazz festival winners. Then he established his own " The Peter Allman Revue" that playing in the Fremont Hotel and Casino, The Orbit Inn, The Marina Hotel , now the MGM, the Jockey Club. As a producer, director and host of over 300 half hour television shows, The Hollywood Las Vegas Report, CMX Sports and Entertainment, The Las Vegan Report and Hollywood In Action, plus KSCI Channel 18. As an actor and producer, Peter was in those films:"Brando Unauthorized," "Killer Priest," "Night Bird," "Vatos Locos 2011", "Talk Back at West L.A. College," and "Winds of Freedom".

Siyuan Liu, Pianist
17-year old pianist Siyuan Liu is currently studying with acclaimed pianist and pedagogue Eduardo Delgado in California. Siyuan began her music training in China at the age of 4, she was Winners at many competitions, the 2015 Romantic/Impressionistic Festival Competition and 2015 American Redlands Bowl Young Artists Competition, 2011 China's National Piano Competition, 2010 KAWAI Asia Youth Piano Competition and the 2006 Xinghai Cup China National Piano Competition, 2005 Hong Kong-Asia Open Competition.
She had performed extensively in her home country and had been featured at the 2011 Universiade, the 2013 Shenzhen International Piano Concerto Competition opening ceremonies, 2015 Universe Multicultural Film Festival Awards Ceremony and 2016 Los Angeles Chinese New Year Ceremonies Concert. Siyuan had also performed solo recitals at the Schlern International Music Festival in Italy, Redlands Bowl in California, Shenzhen City Concert Hall, Shenzhen Grand Theater, Shenzhen Poly Theater, Hong Kong City Hall and at the Amaryllis Fleming Concert Hall in London. Her selected to perform at the famous music festivals, 2013 Lang Lang Youth Piano Festival in Germany, Schlern International Music Festival and the Todi International Music Masters Festival in Italy.

Kenton Lane; Psychotherapist, writer, speaker, actor, musician
With a Portuguese Caribbean (Kittian) Harvard Scientist/Lawyer Father and a Ukranian/Bellarusian Intuitive Healer Mother, but also largely raised by an American Archeologist/Anthropologist Stepfather within Los Angeles's show business, Art, & psychology culture, I was also exposed on a daily basis to the most diverse people, ideas, creativity, music, & spirituality possible from all over the planet. My education, training, experience, and philosophy therefore are gathered from far-flung sources and focused on exploring and developing Mind, Heart, & Spirit together.

Super Victoria Model Team ( Los Angeles, CA)
Super Victoria is a multicultural model team, established in June, 2015 from the St Culture Advocacy, a non-profit organization that support multicultural exchange. Most members hold regular day jobs; enjoy modeling at their spare time. They have been appear in the 2015 Universe Multicultural Film Festival, ICN TV show times and many other community events, also appeared in Broadway International Film Festival –Ensenada ( Mexico). Super Vicatori shows and brings out the beautify of human being through the performance of wearable art.

Georgia's School of Dance / San Diego United Leo Club ( San Diego, CA)


Georgia's School of Dance has been teaching children and adults to dance for over 60 years, it has been providing excellent dance technique and opportunities to all dancers in North San Diego County. Georgia's School of Dance employs professionally trained dance teachers, and we are proud to offer students complete dance education classes, including competitive dance training, in a friendly and encouraging atmosphere benefiting all dancers' growth andenjoyment. In addition to all dance competitions, we take pride in giving back to the community by participating in numerous local community and charity events throughout the year. Some of our dancers are also the members of San Diego United Leo Club, they know the importance of giving back to the community and they have done many volunteer events in order to unite the performing team, demonstrate the power of the arts and utilize their dance skills to serve the community. Today, we are proud to present a lyrical dance "Calling All Angels" choreographed by Anthony Russell, and performed by Caitlyn Aguinaga, Ashley Lindsley, Dovie Telesco, and and Cady Mariano
Mike Shields, Actor, Director ( Redondon Beach, CA)


Mike is south bay local film makers ., he is the Owner at Team 33 Productions and Award Winning Screenwriter. He is known for his work on "Tucker and Dale vs. Evil "(2010), Ginger Snaps (2000) and Walk All Over Me (2007). His screenplay "Diamond is a Girl's Best Friend" won the best screenplay award at 2014 Universe Multicultural Film Festival.

The Silk Road Band ( Irvine, CA)
The Silk Road Band, founded in 2015, is a Chinese girls' band merging traditional Eastern and Western instruments. Inspired by cultural exchange and integration, violinist Bing Li breaks through the tradition and collaborates with Chinese traditional instruments, including the erhu, pipa, bamboo flute and zither. A hybrid of pop music and modern performance produces a new and vigorous cross-border performance. Recently, they made a number of appearances in important events such as Orange County Chinese Spring Festival Gala in Irvine, Bay Area Chinese Spring Festival in San Francisco, and the Mid-Autumn Festival Evening Party in Irvine. Though it has not been long since establishing the band, they have gained an excellent reputation through their many large-scale performances. Everywhere they go, they leave behind traces of beauty and the echo of thunderous applause..

Michael Suvor; Actor, Model, Host




Michael is an actor, famous model from Europe.

Marina Kufa, Host, Producer
Marina is the Producer and Host of We Got You Media production, is a former Producer and host of Planet E! Entertainment Network. She also produced and modeled for Hollywood Fashion Designer Andre Soriano's fashio shows and Kaptain of Hollywood leather coat designer. She's also a pronominal spokeswoman for T.V. A sag actress, professional dancer who danced with Dragon Talent Group dancing in Las Vegas and Los Angeles. Featured dancer in Step Up Revolution (movie) Directed by Scott Speer, produced by Adam Shankmann. Stunt driver in Rock of Ages with Tom Cruise. Featured in Miami Vice, with Jamie Fox, CSI Miami, Burn Notice with Michael Donovan, The Glade, and Bollywood Production "Dostana" featured in Trailer. Worked along side with Artists such as Carlos Santana, Michael Man, David Tutera and Denis Rodman.

Eva De Langeron - co Host, MC, Red Carpet Host team.


Artist, Fashion designer "Eva and Damian De Langeron".
Eva traveled as a Diplomat and worked throughout Europe and US attaining a solid reputation among philanthropic projects, celebrity, charity and social life for her great philanthropic activity and celebrity liaison work. Eva had co-hosted, co-MC, designed and programmed over 300 VIP events /over 250.000 people/ co-produced 40 films. Co-owner of private "The De Langeron Club", media platform www. GoldenHeartAwards.org;
- "Eva gathering the best of life, of people, and all for a responsibility to bring fortune to those less fortunate, including people and animals".